New Standard Armless Sofa
Simple with a healthy side of swagger.
A veces, no se trata de empezar desde cero, sino de revisar diseños anteriores y mejorarlos. The New Standar es la simplicidad en su máxima expresión con sus retoques, nuevos y mejorados. Los brazos anchos y los cojines sueltos y acogedores se combinan con proporciones perfectas mostrando las patas del sillón. Disponible en cuatro telas, tres pieles, dos acabados de patas y una variedad de formas para adaptarse a cualquier espacio.
Product Dimensions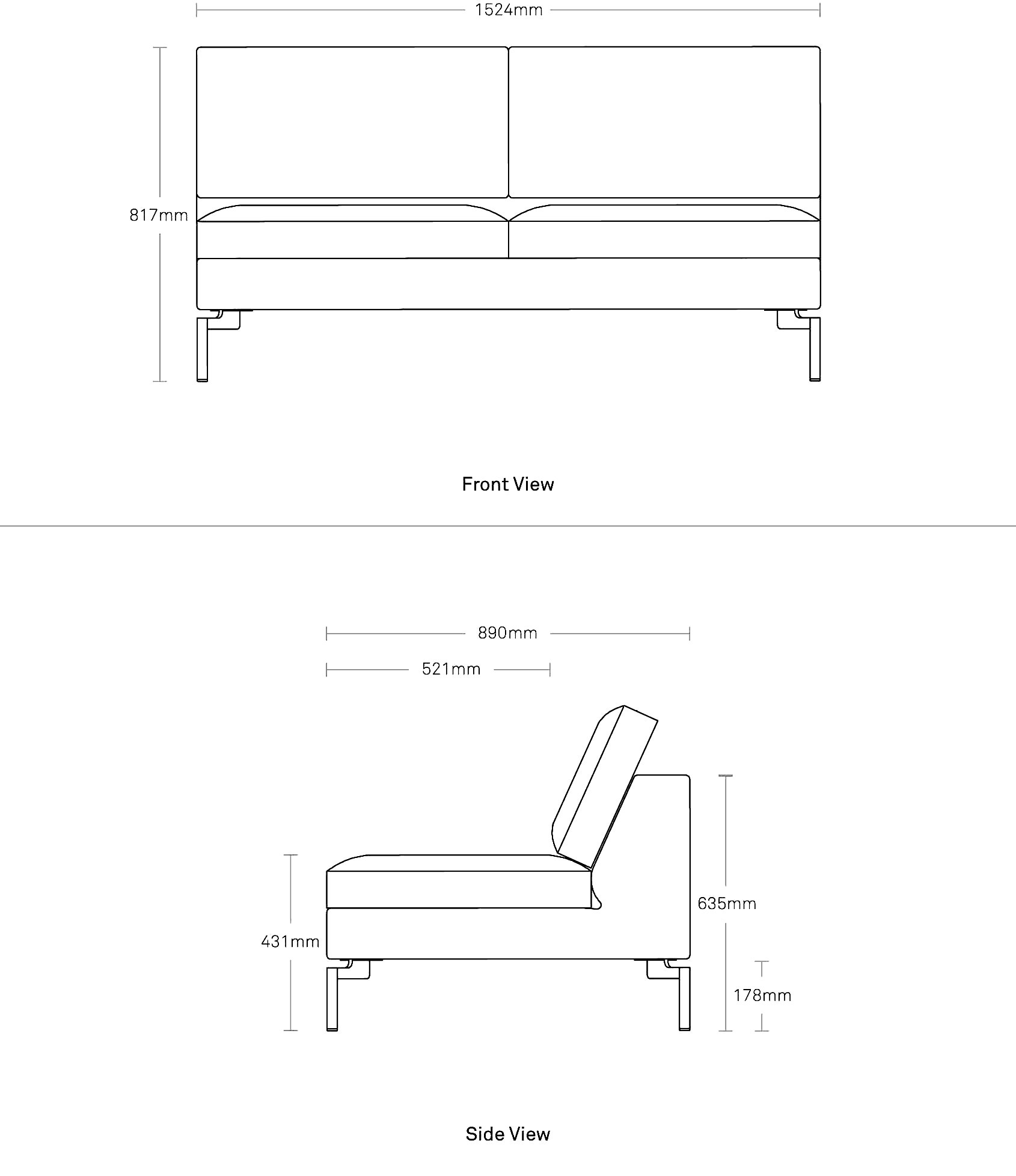 Product Details
Estructura de madera maciza americana secada al horno resistente, con clavijas y esquinas bloqueadas para mayor resistencia.
Los resortes de acero sinuosos brindan un soporte duradero debajo de los cojines.
Los cojines de espuma de alta elasticidad con envoltura de plumas proporcionan una combinación de firmeza y comodidad, y con el uso adquieren una apariencia más informal. Para promover un desgaste uniforme con el tiempo, recomendamos esponjar y voltear los cojines con frecuencia después de su uso.
Patas de acero con recubrimiento en polvo electrostático.
Nixon Blue/ Sand: 46% Acrílico / 43% Algodón / 11% Poliéster | 30.000 frotes dobles.
Sanford Black: 63% poliéster / 37% tapizado de mezcla acrílica | 50,000 frotes dobles.
Spitzer Grey: 100% poliéster | 100,000 frotes dobles.
Maharam mode en intaglio: 80% poliéster reciclado posconsumo, 20% poliéster | 100,000 frotes dobles.
Maharam Meld en Panda: 68% poliéster reciclado posconsumo, 32% poliéster | 100,000 frotes dobles.
Las telas de tapicería Maharam cuentan con la certificación Green Guard y Green Guard Gold para cumplir con los estándares de bajas emisiones químicas y COV, lo que contribuye a un aire interior saludable.
Dark Brown Leather: consta con un cuero semianilina pigmentado de grano superior acabado con una capa superior protectora para crear un acabado consistente y duradero.
Granite Leather / Toffee Leather: Cuero de anilina natural de plena flor elaborado con pieles de la más alta calidad; curtido y fresado por expertos para crear una mano suave y tercia con un acabado lujoso que se pátina con el tiempo; Granite es un color carbón atractivo. La variación de color es la firma de la autenticidad del cuero natural.
Certificación BIFMA.
Se necesita un armado básico.
Back to top →
• Devoluciones no se aceptan sin defecto de la fabricaión del producto ni sin daño en la entrega.
• Si es el caso que recibes un producto con daño de la entrega, necesitas informarnos entre 24 horas de recibir el producto para poder devolverlo.
• Garantía del producto es por un año empezando el día de compra y solo cubre defectos de fabricación.