Game on.
A veces no se trata de empezar desde cero, sino de revisar diseños anteriores y simplemente mejorarlos. El moderno sofá de piel New Standard es sencillez en puro estado con un pequeño toque. Brazos anchos y cojines del respaldo acogedores se unen gracias a sus proporciones acorde y sus patas a juego.
También disponible en
piel
.
Consigue la colección entera
New Standard Collection
de sofás y asientos modernos.
Dimensions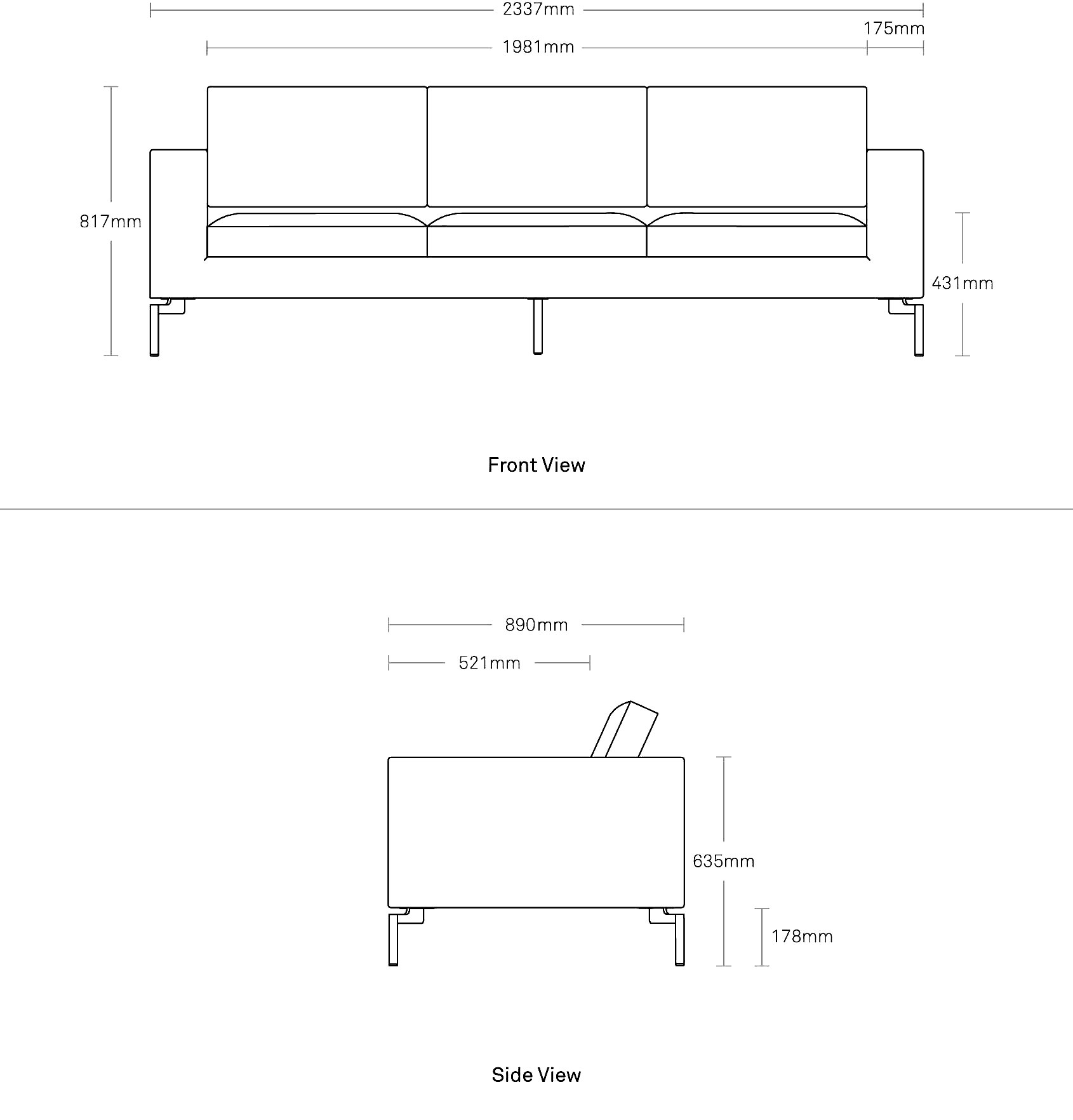 Product Details
New Stanard 92" Modern Sofa:
• Estructura robusta de madera contrachapada americana secada en estufa, esquinas duras y bloqueadas para añadir firmeza
• Muelles de acero serpenteantes que proporcionan un soporte duradero debajo de los cojines
• Cojines con espuma de alta resilencia con envoltura de plumas y fibra que aportan una combinación de soporte firme y confort, y con el uso adoptará un aspecto más casual. Para promover un desgaste con el tiempo, le recomendamos que ahueque y voltee los cojines después de su uso.
• Patas de acero de polvo electroestático en color Blanco o Negro
• Quinta pierna de soporte en el centro
• Azul Nixon / Rojo / Arena: 46% Acrílico / 43% Algodón / 11% Poliéster
• Gris Spitzer: 100% Poliéster
• Se requiere montaje

Design Story:
The New Standard Collection
Designed 2014
We didn't design our first upholstered piece until Blu Dot was seven or eight years old. Designing sofas is different than designing most other things. It can often be less about new ideas and clever solutions and more about making beautiful forms with a welcoming sit – comfortable sculpture. New Standard is definitely that - nicely proportioned with carefully crafted cushions that have surprising comfort. And the sweet little leg on this sofa doesn't just look cool. It was designed this way because it is always hard to attach a leg cleanly and directly at the outside corner of a sofa, as all the fabric comes together at that point. That's why New Standard's legs attach to the frame inboard and appear to "float" at the corners. It's always a bonus when solving a practical problem leads us to an interesting aesthetic detail.
Designing stuff we love.
Every day here in Minneapolis.
Back to top →
This Might Interest You